Here's a new desert for any special occasion. The cookie has a delicate flavor which provides a perfect base for a mouth-watering, delicious blueberry sauce that's heated on the stove and then spooned on top. Serve on pretty plates or bowls, and enjoy every last bite!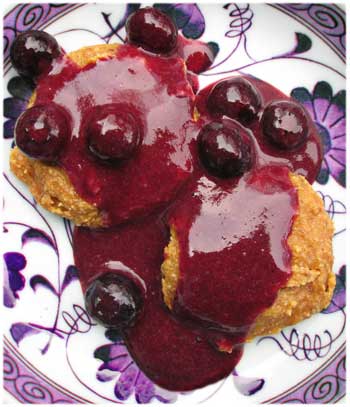 Ingredients: Makes about 10 cookies
1/2 cup dry almonds
1/4 cup dry cashews
1 small Fuyu* persimmon, chopped (1/3 cup)
(If you use a larger size persimmon, it will make a moister cookie which will take several more hours to dehydrate.)
2 Medjool dates
1/2 teaspoon vanilla extract, optional
1/8 teaspoon Celtic or Himalayan salt
1 1/2 cups frozen blueberries
2 teaspoons honey

*Make sure you get the Fuyu variety of persimmon. The Hachiya variety is too astringent for eating raw. Fuyu's come in two sizes. This recipe uses the smaller size.

Directions:
For a smooth textured cookie, put nuts into a dry blender and blend until powdery. Transfer to a food processor.
For a cookie with a little more texture, put nuts into a food processor, and grind until the texture is as fine as possible.
Peel persimmon, chop, and check for seeds. Add to nuts, with dates, salt, and optional vanilla extract.
Process until dough clumps, about 20 seconds.
Put a rounded tablespoon of dough into your hand, and roll into a ball. (The dough is a little sticky.) Repeat process.
Place balls on a Teflex sheet (on top of a mesh sheet and a dehydrator tray). Press cookie with a fork. (I wet the fork with water to keep it from sticking.)
Dehydrate at 110 degrees. After 2 hours, flip the tray by putting a 2nd mesh sheet on top of the cookies, with and tray on top of the mesh. Then turn everything over. Remove tray, mesh, and Teflex sheet.
Continue to dehydrate and check for "doneness" in 3 hours. They should be dry and firm to the touch on the outside, and softer inside.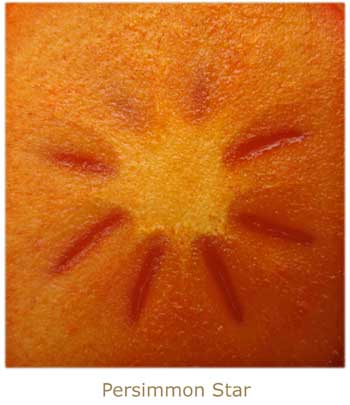 Directions for Sauce:
Frozen blueberries work best for this sauce because after blending they'll maintain a sauce consistency for hours. Fresh blueberries that are blended will thicken and set up within minutes. This is good for other recipes, like pie!
Defrost by letting berries sit out on counter for several hours, or put into colander and run warm/hot water over berries until they soften, about 60 seconds.
Set 1/4 cup of thawed bluberries aside to add later.
Put the rest of the berries, and the honey, into blender and blend until velvety smooth.
Transfer to a cooking pan, and add whole blueberries.
When ready to eat desert, heat berries to desired temperature.
Put cookies into bowls, spoon sauce on top, and eat immediately.

A little Christmas gift came our way this week: a free horse and carriage ride around the streets of Fairhaven. We'd read about it online, yet hadn't seen any sign of the horses. Wouldn't you know, while I was in the Village doing some shopping, just as I was wondering where they were, I caught sight of two huge black Percheron draft horses jaunting down the street, with big clopping hooves, bells jingling on their black leather harnesses, pulling a carriage filled with merry, rosy faced people and wide-eyed children. Historically, Percheron's were originally bred in France, and played an enormous role in the development of Europe and this country.

I stood transfixed, watching as my throat tightened with emotions because I love horses and rarely see them in a city. Black stallions pull the strongest on my heartstrings, and the two that were hooked up to the carriage were stunning. When the carriage came to a stop I had to go to the horses to get as close as possible. Steam poured off their hides as they stood calmly and politely while photos were taken of them with various children and passengers.

Since Rex wasn't with me, I knew he wouldn't want to miss out on the ride, so I went home to collect him. And we're so glad we went back, because the experience transported us into realms from another time, and connected us to the horses in unexpected ways.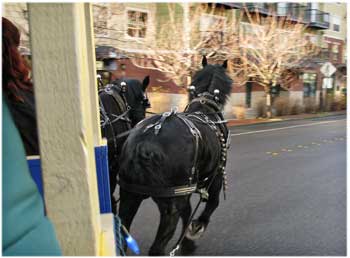 Minutes later we were in the carriage, out in the fresh cold air, with no car to surround us and dull our senses. The colors of the buildings and the people looked etched with clarity. The power of the horses was immense, and they listened intently with ears turned just a little bit back so they could hear their master when he spoke, steady now, okay go!, careful, and so on.

A few exciting moments of surging up a hill (where young carollers sang with smiling faces at the corner of Village Books), and making a turn in the road coming back down a hill where we all strongly leaned to one side, delighted us with the thrill of the ride. The word momentum has taken on new meaning! When we pulled up to the old Fairhaven Hotel (where Santa sat inside to meet eager children), and the ride having ended, Rex and I got out and thanked the horses with gratitude for their gift of service.

Our hearts were filled in that moment, and still glow as we remember the horses and a moment of living a life filled with love. We wish you the most wonderful holiday season, to savor in every way that is uniquely yours, and we look forward to being together again in 2012.