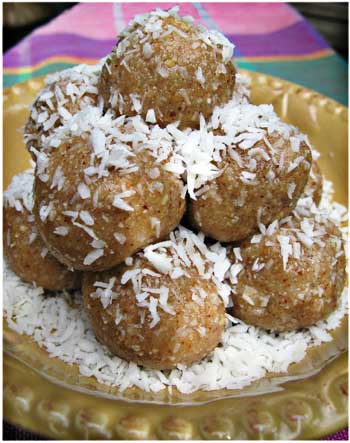 When a craving comes for a little taste of sweetness, these truffles can be whipped up in five minutes for a yummy treat. Simple ingredients make them so easy to prepare: shredded coconut, crunchy almond butter, and honey. Our favorite variety is a creamed raspberry honey from local hives with a flavor that's so mild it doesn't overpower the taste of the truffles. The almond extract imparts a subtle, hidden flavor that takes the truffles to a new level. For the best results make sure the almond butter is fresh.

Ingredients: Makes 10 Truffles
6 tablespoons shredded coconut
4 tablespoons chunky almond butter
3 tablespoons creamed raw honey
1/8th teaspoon Himalayan salt
2-3 tiny drops almond extract, optional

Directions
Put all ingredients into a food processor or bowl and mix well.
With a spoon, scoop out about a tablespoon of the mix, put into palm of hand, and roll into a ball. Repeat process. Arrange on plate, and sprinkle coconut on top.