Here's a delicious little recipe to use as a topping for your favorite salads, or to load onto thick slabs of juicy ripe tomatoes: chunky guacamole with a twist. Avocado and celery team up to make a textured and crunchy guacamole that adds a refreshing touch to what might be an ordinary meal. Spoon on top of a salad, or use as a dip with carrots, jicama, cucumber, etc.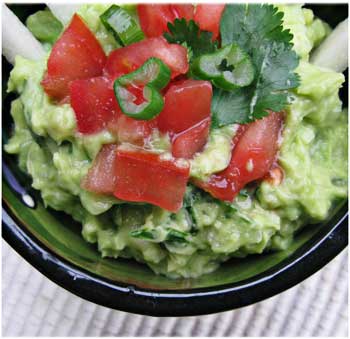 Ingredients: (Serves 2)
2 small ripe Haas avocadoes (should feel a bit soft to the touch)
1/2 cup celery, finely chopped
2 and 1/2 tablespoons green onions, very finely chopped
10-12 cilantro leaves, chopped
Juice from 1/2 lime (use a citrus squeezer)
1/4 teaspoon Himalayan salt
Dash of hot pepper flakes, or cayenne pepper, optional
Garnish: chopped tomatoes, a few slices green onion, and a cilantro leaf

Directions
Rinse celery, and peel if necessary to remove tough strings. Chop. Put into mixing bowl.
Cut avocado into quarters, remove pit, and peel skin. Mash with a fork. Add to celery.
Add green onions, cilantro leaves, lime juice, and salt. Mix.
Spoon into pretty bowls and add garnish.

A few days ago an idea came while I was fixing lunch: "Add celery to the guacamole", and in minutes, a new recipe had arrived. What began inwardly (the idea, the thought) had now entered into physicality as something to eat and enjoy. What I could see and touch was a direct reflection of my inner state.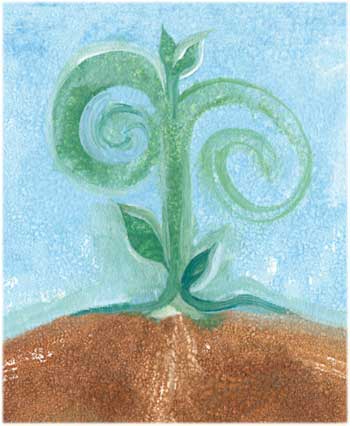 Another example of this is when we have a desire to eat more raw and living food. This comes before the actual eating of more raw food begins. Education, gaining a new context of how we might live (if we do in fact change), are a big part of making modifications. Rare are the times when we know instantly through and through, how to revise our path on the spot, forever, no questions asked.

So when I want to change, how do I get from here to there? It begins with an inner process, first with a desire to change. Ideas begin to come, and ideas are like seeds. Teamed with passion and desire (much akin to the forces of nature that can move us with intention), powerful allays have arrived.

Then the discovery process is activated where I find out what it is that really needs to be altered. (It could be as simple as a changed attitude or belief.) By watching what comes to me through inner vision and listening, through dreams and intuition, clear answers begin to tumble into my consciousness on how to proceed. This part of the process can be quite stunning.

Then I enter into the phase of beginning to try to make the shift, of being successful sometimes, unsuccessful at other times. This has a lot to do with the fact that there's the "thinking about changing" stage, and then there's the actual living it, which can be quite different. Often it takes us a full year before what we want to do becomes an effortless, living practice.

Mahatma Gandhi urged us to "be the change you want to see in the world". Rumi entreated us to "let the beauty of what you love be what you do". And from his poem,
Moving Water
, he wrote: "When you do things from your soul, you feel a river moving in you, a joy. When actions come from another section, the feeling disappears."

Rex and I aspire to be the change, to bring the inner ideal into the outer, little by little, step by step, ever reaching toward greater health, personal transformation, and the deepest love of all.