Enjoy this delightful summer lunch or dinner out on the deck, or as picnic fare. Celery, apples, zucchini, and a touch of cilantro complement the buttery taste of avocado. Team it up with a side of sliced tomatoes (we used the reddest heirloom Roman Striped tomatoes from the farmers market), and your favorite lettuce. Drizzle on a touch of balsamic vinegar or your favorite dressing.

This meal is simple to make, looks elegant, and tastes delicious. Rex commented that we'd be so excited if we found something like this in a restaurant! And be sure to check out our other
avocado boat recipe
with a raw corn filling, along with a story about being an "island girl", from when we lived on San Juan Island.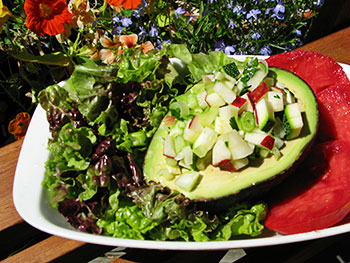 Ingredients: serves 2
1 large Hass avocado, cut in half, pit removed
4 tablespoons celery, finely diced
4 tablespoons apple, finely diced
2-3 tablespoons zucchini, finely diced
2 tablespoons green onions, very finely sliced
3-6 cilantro leaves, minced
Pinch of cayenne

For Additional Salad Ingredients
2 cups lettuce, chopped
1/2 tomato, sliced

Directions
Cut avocado in half, and remove pit. Leave on skin.
Place in dish.
Finely dice celery, apples, zucchini, and finely slice green onions. Place in mixing bowl, and mix.
Spoon into avocado halves.
Sprinkle on a tiny pinch of cayenne.
Add greens and tomato.
Eat the avocado boat with a spoon!

I learned from a video by Paul Risse during
Cleanse America 7
, that the earth has healing properties that can greatly assist us. Just by taking off our shoes and socks, and getting our feet or hands on or in the earth, the positive ions that collect in our bodies that cause stress and inflammation can be released in a few minutes because of the negative ions from the earth.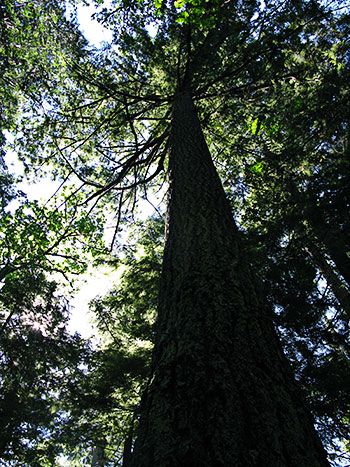 I tried this technique several times during the cleanse, and the first time I noticed a big exchange of energy, like a static discharge that flowed out of my feet and into the ground. Within five minute my body felt much more at peace. I lay on the grass on a little hill, soaking up good energy, breathing in the fresh air, feeling the warming sun like a gentle caress.

Getting out in nature is one of our best resources for restoring balance and harmony. Rex and I recently walked through a old growth forest that is only twenty minutes from our home. I had goose bumps for much of the time, not from any chill, because the air was warm. The chills were coming from the powerful emanations from the trees. Certain spots felt sacred, and we didn't want to talk. When we did, it was with a whisper. We didn't want to disturb the profound quiet that was there. No cars could be heard, only the sounds of the birds. There wasn't even a wind, so there was a profound stillness.

Touching one of the trees, we could feel the life force within. Such strength! I just loved seeing the power that had pushed these Douglas Firs up from the ground, soaring into the sky.

There were lessons too, about being patient, and allowing life to happen at it's own pace. We can emulate the trees in this regard, when we want to make changes and see them manifest quickly. Yes, life happens at its own pace, and this applies to our diet, lifestyle, dreams, and goals. The trees can be our teachers. What whispered messages have they shared with you?