Broth. It's so humble, simple, and sustaining. I've been making this warm and soothing broth and soup for lunch or dinner that's so delicious as the season changes with fall nipping at our heels. And it's living food too, with all the enzymes intact to rebuild and rejuvenate!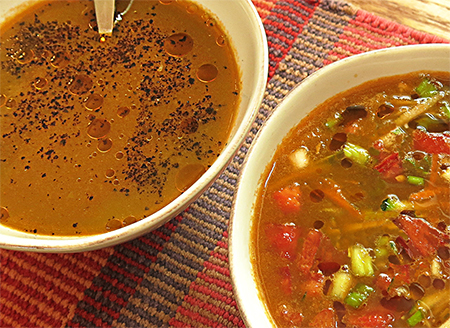 Strengthening veggies are first juiced with anti-inflammatory, spicy-hot ginger root, to which I add in immune boosting ashwaganda powder, and mineral-rich nori flakes for a nourishing, light meal. It's so good, my intuition is telling me this is going to become a real staple for us! We feel grounded, satisfied, and sated when the bowl is empty.

Use the broth as a base for a more hearty soup with chopped tomatoes, grated or spiralized zucchini, and other veggies such as grated carrots, kohlrabi, or beets, avocado cubes, minced spinach, pine nuts, diced red bell pepper, or anything else that your tastes or imagination suggests. Top with nori flakes, a drizzle of toasted sesame oil, and a splash of delicious, low-sodium Coconut Aminos—or use your favorite brand of miso. To tip the flavor toward a yummy Thai dish, a sprig or two of cilantro and a little curry would do the trick.

Ingredients: Makes 2 bowls of broth or soup
2 medium zucchini
6-10 carrots, depending on size
1/2 head celery
2 green onions
1-2 inch "thumb" ginger root, depending on how fiery you like it
1-2 cloves garlic, depending on size
1 teaspoon ashwaganda powder
Shake of paprika
Drizzle of toasted sesame oil
Coconut Aminos or miso to taste
1-2 tablespoons nori flakes (directions follow on how to make your own)

Directions for Broth:
Scrub carrots and wash all veggies.
Juice zucchini, carrots, celery, green onions, ginger root, and garlic.
Transfer to a cooking pot and warm gently to desired temperature—but remember that above 115 degrees the enzymes will begin to be lost—so keep a close watch, stirring continuously. Use a cooking thermometer, or a finger—if it feels hot it's cooking.
Transfer to bowls.
Sprinkle with nori flakes, paprika, ashwaganda, and add Coconut Aminos or miso, stir, and then drizzle on a few drops of toasted sesame oil.
Serve immediately and enjoy.

Creamed Spinach Variation:
Place unheated broth and 2 cups chopped spinach, and 1/4 Haas avocado in Vitamix or blender and blend until creamy. Then warm. It's just delicious!

To Make Nori Flakes:
Tear or cut up nori sheets into pieces about 1x1 inches. (I tear multiple sheets at the same time and store flakes in a glass container with lid.)
Put into blender and run until pieces turn into flakes and are the desired size.
If you use a Vitamix, use the tamper, as it helps to get the flakes to the blades.

The Little Story:Changing Seasons and Staying Raw!
Here in the North, temperatures are already letting us know that Autumn has come. It's either sunny with a breeze that has a chill, or cloudy/raining, and nights are much cooler. Leaves are turning colors with every passing day. The air is damp, yet when in the sun it's still plenty warm to bake some sunlight into our bones—a much appreciated gift for the darker months ahead.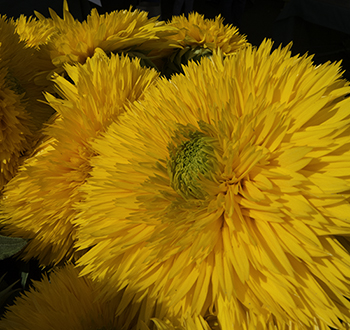 Our bodies are fluid—they shift and change just as the seasons do, and we're designed to resonate with our environment beautifully. Rex and I adjust our food when it's cooler (or hotter) choosing lighter or more nutrient dense foods. Right now this instinct is showing up as a natural desire for warming foods. Our broth recipe is a building food, and the ashwaganda is immune boosting for the colder days to come.

We've mentioned
Warming Up To Living Foods
by Elilza Markowitz, several times on our posts over the years and for newer members who may not have yet seen it, it's a great book to check out. Our need for warmth and comfort is hard wired, from birth on. There are many ways to warm foods so that we can continue to eat raw through the fall and winter months by using a dehydrator to warm veggies or make breads, and by gently heating on the stove. All of our soups can be warmed, as can the pasta dishes, for satisfying meals day by day to keep health at a high level and not weighed down by heavy cooked foods.

We haven't been posting recipes and stories as often and I'm not sure what this is about or if it will change soon... however during the times between emails we hope you are taking full advantage of the archive to choose and plan your meals, using the search box to find ingredients and recipes.

Our love goes out to each and every one of you, and we hope your raw food journey is carrying you to amazing places, in body, mind, and Soul—filling you with inspiration each and every day—and that you're sharing this with your friends, families, and loved ones!

And remember too, our spiritual food, filled with colors and sounds, nature, music, meditation, contemplation, prayer, and the chanting of holy or sacred words to feed and nourish the heart, clear the mind, and bring states of deep peace, abiding love, and a desire to bring something beautiful into the world.