Sprouted buckwheat with the addition of finely chopped veggies and a yummy sweet and sour spicy dressing, makes a hearty, delicious entree salad. Buckwheat brings the feeling and taste of grains, but it actually isn't a grain—it's a seed. We find it beautiful, healthful, and bursting with vibrant life energy, because it's a true living food. And as a sprout it's so easy to grow, and is super cost efficient too—one cup magically transforms into three or four protein-rich cups once sprouted!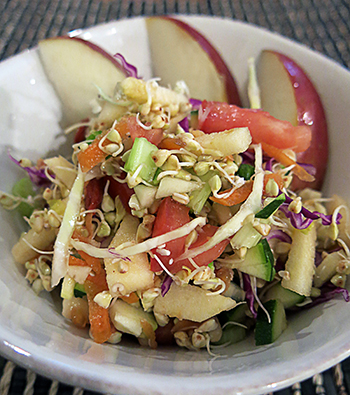 Sprouting brings the gift of growing food into our home and of being self-sufficient. In only two days there's food to eat! Rex and I think this is amazing to not have to tend a garden outside, waiting 60-90 days for the harvest. Utilizing the space of one foot on the kitchen counter, an indoor garden is ours to enjoy year round.

Ingredients: Serves 4 as a dinner salad
3/4 cup dry buckwheat groats. This will make about 2 1/2 cups once sprouted. Make sure you get groats, as they are for sprouting. The kind with dark hulls are for growing into greens. Use all the sprouts for the salad.
2/3 cup fresh tomatoes, finely chopped
1/2 cup celery, thinly sliced
1/2 cup zucchini, super finely chopped
1/2 cup apple, finely chopped (peel apple if desired)
1/2 cup carrots, shredded
1/4 cup super finely sliced green cabbage, with a tiny bit of red
4 tablespoons green onion
4 tablespoons pine nuts, or chopped hazelnuts, or chopped almonds
Apple wedges for dipping

Super Light No Oil Dressing
1/2 cup fresh squeezed orange juice. Add chipotle if desired.

Sweet & Sour, Spicy Low Fat Dressing
4 tablespoons Honey-Ginger Balsamic vinegar
4 tablespoons Coconut Aminos
1 tablespoon toasted sesame oil
1/4 teaspoon chipotle powder

Alternate for Coconut Aminos: Seaweed of your choice, such a wakame, or dulse, for saltiness.

Directions:
Start buckwheat two days before making. Will store in fridge for about 4-5 days once sprouted. When ready, give a final rinse (see below), drain well, and add veggies and ingredients for dressing. Mix well, taste for the sweet/sour/spicy balance and adjust if needed.

How to Sprout Buckwheat:
It's easier than it sounds! Soak 3/4 cup buckwheat groats in a one quart glass container, covered to the top with pure water for 30-60 minutes. Stir to make sure all groats are mixed. Pour into a strainer and rinse well. Cover with a plastic bag and let sit on counter. Rinse and drain 12 hours later. Repeat process on day two. Tails should be about 1/4 inch long before using.

There is a mucilaginous quality to the sprouts that needs to be completely rinsed off. The easiest way to accomplish this is to set the strainer into a bowl, fill the bowl and run water over the sprouts. Move strainer up and down until water runs clean, then give a little rinse with pure water. This is the best way to rinse buckwheat, and the sprouts just love it! I usually do this in the morning on the second day, and again before using. All the slippery substance is gone.

The Little Story: Forced Cleansing!

I had all kinds of ideas to share with you leading up to Christmas, but alas, a trip to California brought something else—dreadful colds. It was a surprise because of our diet, so clean and good. And humbling too, to have had this happen. I even did a juice/liquid cleanse for four days to see if that would make it better, but it didn't seem to have much effect at all, which was another surprise. I did lose four pounds though! The long and the short of it was that our sinuses got very cleaned out from the forced cleanse, which was a good thing, although not fun in the least.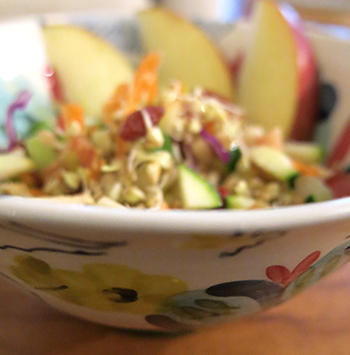 I think life brings these health challenges to us sometimes, and we just have to go through them with as much grace as we can. We had holiday plans that had to be cancelled—a long awaited trip to Victoria—yet all things came together beautifully by Christmas Eve with a gathering of friends all aglow, at our home. And on Christmas day we had another wonderful celebration with friends. It was perfect, just what we needed.

So heading in to the New Year, we want to share this delicious health building salad. And perhaps it will trigger a new year's practice in your life—you just might catch the sprouting bug—and this kind of bug we heartily welcome!

One thing that an illness can bring when it's over and the body has come back into balance, is a sense of renewal (often profound), with a focus of intention on what is to be done, which projects to start, as well as seeing with clear vision the life goals that are shimmering and alive. For me, it's as if I've been set back down into the flow of life once again, often in a new and unexpected place, and I feel excited and grateful as the energy starts moving forward. Each piece that's needed to make things manifest comes at the perfect time. In this way I can live what I dream.

With this thought, may you all live the lives you are dreaming....and not only dream about living. Here's to an amazing, transformative 2016. May all blessings be!

In the ringing and proclaiming,
the fires were lit.
Now the embers ripple
in the silence of the night.

I feel the essence of new gifts coming,
dreams that touch my heart.
Filling, filling,
spilling over,
my cup runneth, overflowing.

I am drinking joy, long and deep,
breathing essence
full and wide,
in my body,
in my heart and being,

and stepping into the world with new vision,
embracing the fullness of life,
hands doing the work from the vision held in the heart,
feet taking me to the places that Soul is longing to go.