Sweet, juicy summer corn is here, and this hearty, spicy, raw corn salad is finding its way to our table for lunch or dinner. Organic, non-GMO corn mixes beautifully with celery, tomato, and avocado, and the spices give it a real kick. Makes a filling stand-alone salad, or a great side salad for four, or as a filling for wraps. This is a basic recipe: the proportions can vary according to your tastes.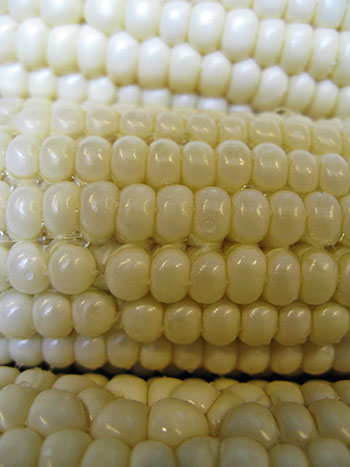 Ingredients: serves 2-4
1-2 ears organic white corn
1 small Hass avocado, peeled, pit removed, diced
1/2 cup ripe Heirloom tomato, diced
1/2 cup zucchini, julienned
1/4 cup celery, diced or very finely sliced
6 cilantro leaves, minced
4 tablespoons green onion, finely sliced
2 tablespoons Spectrum Walnut oil, or olive oil
1-2 tablespoons lime juice
1 tablespoon Balsamic vinegar
1 clove garlic, peeled and pressed, optional
1/16 teaspoon chipotle powder, or cayenne
Sprinkle of Himalayan salt to taste
Fresh cracked black pepper to taste

Directions
Remove leaves and silk from corn.
Rinse well under cool water, turning and rubbing, until silk is gone.
Cut kernels off ears of corn.
Transfer to a bowl.
Add all ingredients to the bowl and gently mix.
Transfer to plates, and serve immediately.

A year before Rex and I moved to Fairhaven I dreamed of a white farmhouse along a dirt road. Something made us pull the car over, and we got out and walked around the corner of the house to discover a natural meadow-like yard filled with pink and yellow flowers. A soft, golden sun was backlighting the flowers and they were radiant with an otherworldly beauty that took my breath away. A moment later it felt like a magnet was drawing us toward the open door of the house.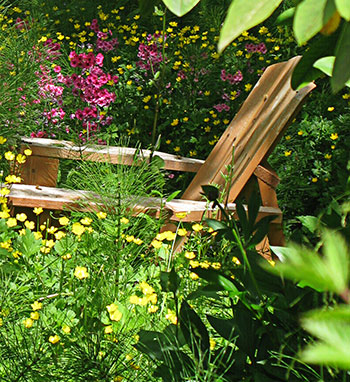 To our amazement we just walked in like it belonged to us. The living room had well worn, wide planked floors, and a floor-to-ceiling hand built stone fireplace. The kitchen had a restaurant stove and oven. The delicious smell of fresh baked bread filled the room and there was the biggest loaf I'd ever seen on an oversized wooden table that filled most of the kitchen. I wandered into the living room and then upstairs looking at highly imaginative and unusual art that hung on the walls. And from the bedroom, a densely treed mountain was framed in the window. I longed for this to be home.

We met the owner and apologized for our intrusion. He said not to worry, that it always happened this way: when the next people who were meant to live there found the house, they always walked in without asking. I was amazed.

Since moving here I've seen so many aspects of this dream. The gentleness of the land, a country feel and lovely old style homes, a creative community that is like none we've ever encountered, and views of Chuckanut Ridge which looks exactly like the mountain from the bedroom window. So when I saw this chair amidst the pink and yellow flowers, hidden away at Bear Creek Nursery (thanks Charm, for bringing me there!), it brought my dream back in full force.

The power of dreams can carry us across a country, plant a garden, launch a new career, begin a new way of living (perhaps a life of raw food), and help us to focus on what is stirring in our hearts. My dream carried us off the island, our home for nine years, and one that we never thought we'd leave. Yet, there it was: a longing for a home in the midst of pink and yellow flowers, next to a mountain, with a hearth filled with love, and creativity bubbling up at every turn.