We're wild for these
Coconut Paleo Wraps
! These are ready-to-go, raw coconut wraps (made from just coconut water and coconut meat) that are so versatile and easy to use. We just gobbled up a couple of wraps for lunch because this recipe is insanely delicious. They're so fast to make, and they sit light in the tummy, too.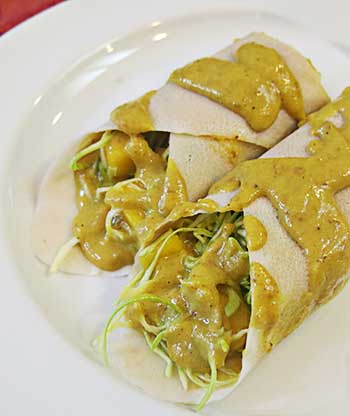 Coconut Wraps are awesome with our Tahini-Date Sauce—it can be made either sweet or savory. The variations for fillings are pretty endless, and we're just getting started with possibilities as we experiment and have fun. I first saw a video on how to make these Paleo Wraps on a website, and the people made them with a slaw filling of cabbage, mango, avocado, meat, and other ingredients, which we've modified to make a vegan recipe.

We've been changing the recipe a bit with each new batch, but we haven't tried a Mexican filling yet. The wraps hold together beautifully, and will even fold up at the ends with a little sauce dabbed on. Because the wraps are a bit expensive, they can be reserved for special occasions.

Ingredients: Makes 4 big wraps
4 Coconut Paleo Wraps
2 cups cabbage, super finely sliced (we use a Mandoline)
1 mango, peeled sliced off the pit, diced
1/2 large Hass avocado, peeled, pit removed, diced
12 cilantro leaves, minced
1 green onion, finely sliced
Fresh lime juice squeezed on top of wrap

Directions
Prepare all veggies and fruit and put into a mixing bowl. Mix well.
Place a wrap on a plate. Spread sauce on wrap. Spoon on a generous amount of filling.
Fold wrap over filling as tightly as you can, and continue to roll.
Squeeze on a little fresh lime juice.
Rex likes to add a drizzle of toasted sesame oil.

Filling Variations
1. Cabbage, apple, celery, and avocado.
2. Lettuce, mango, and avocado.
3. Cabbage or lettuce, pear, and avocado.

Directions
Finely slice greens, dice fruits and avocado. Mix and serve.

Spicy Tahini-Date Sauce
1/3-1/2 cup pure water
2-3 tablespoons tahini, depending on thickness
2 Medjool dates, pitted
2 tablespoons raw apple cider vinegar
1 teaspoon curry powder (Garam Masala, Chinese Five Spice (use 1/2 teaspoon), or Ras El Hanout will also work.)
1/8 teaspoon Himalayan salt, optional

Savory Tahini Sauce
1/2 cup water
1/4 cup zucchini, chopped
2-3 tablespoons tahini
Juice of 1 lemon (or more if the lemon isn't juicy), or to desired taste
1 clove garlic, pressed
1/8th teaspoon Himalayan salt, optional
Tiny pinch of cayenne

Directions for Sauces
Put ingredients into a blender or Vitamix and blend until smooth. Transfer to a bowl and spoon onto wrap before rolling up. This will soften the wrap.

As Rex and I change, we learn more, expand, and bring this expansion back to our center. Sometimes this process is with the practices we may have begun years prior that fell to the side for some reason, or when life became too busy. When we cycle back to those practices, we re-experience the gifts that they had previously brought us, with the added benefit of a whole new perspective.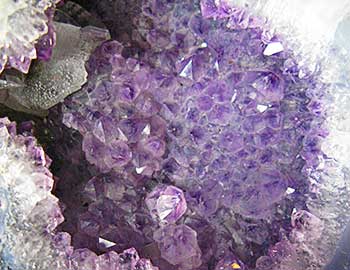 For me, there's an "ahhh, now I get it", seen through fresh eyes, and wisdom gleaned through living. This isn't just a perception of my mind where something seems like a good idea... it's much more, and feels like it's deeply rooted in holistic awareness that embraces every aspect of my being.

I think we cycle in and out of experiences. Sometimes the same one comes back round, and I wonder why it's happening again. Rex helped me to see that even though it seems like the "same old thing", in actuality I'm in a new place, and the experience has new potentialities to teach me more. He likened it to a point on an ascending spiral that circles round, yet is ever moving upward, so our viewpoint now encompasses much more from a higher perspective.

Another take on this same idea came to me the other day through this metaphor about a crystal gemstone with many facets. Every facet was an aspect of the stone and showed a different side, or angle. Every individual "face" was a mirror to bring another viewpoint to me, to teach me, and to bring more awareness. Yet all the facets were connected, joined together to form a cohesive One.

Much like humanity, where every person is unique, we mirror life back and forth to each other, yet all are joined as one collective consciousness. This "livingness" is like a spiral stairway that leads to greater truth, compassion, and awareness of abundant health, freedom, and love!