A year ago, intuition sparked the creation of this simple little recipe that has curled our toes on more than one occasion! Fresh pistachios take the lead in this yummy, chunky pate, which makes a lovely addition to any salad, veggie dish, or wraps made with sundried tomatoes and avocado. Use the pate with finely chopped kale to help build up the body!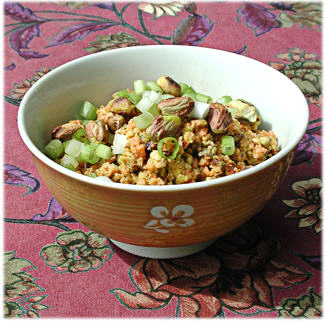 Curl Your Toes Pate
Ingredients (Serve 2-4):
1/2 cup fresh raw hulled pistachios
1/2 cup thinly sliced carrot, scrubbed or peeled
1 tablespoon South River
Azuki Bean Miso
—the perfect flavor balance that brings the curl your toes element!
2-3 tablespoons Spectrum walnut oil
1 clove garlic, peeled and pressed
Dressing:
A splash each of oil, tamari, lemon juice or balsamic vinegar.
Optional: 1 clove garlic, pressed.
Add 2-3 teaspoons agave nectar if you prefer a sweeter dressing.
Or use your favorite.
Directions:
Put all ingredients into a food processor (I wear earplugs because it's quite loud at first), and pulse to a minced texture. Garnish with some finely chopped green onions and a few whole pistachios. That's it!

A Little Story: The Power of Healing Love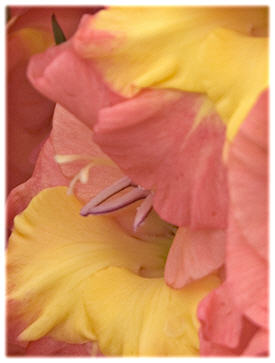 When health has been compromised and is finally restored, the simplest experiences can trigger exquisite feelings in the body, often accompanied by waves of relief and deepest gratitude. A gentle breeze, the scent of night blooming jasmine, soft sheets against the skin, the taste of a ripe peach, raindrops on one's face, the compassion of a healing embrace, or a lover's touch—all are registered within our sensuous and remarkable vessel, the human form, and it's spiritual co-heart, Soul.

As I have healed from a troublesome foot injury that took place three years ago, this summer I was finally able to begin, carefully, to walk longer distances, other than a block or two at a time in town, or to and from the parking lot at the grocery store.

I nearly wept with joy on the first day that Rex and I were once again out in nature, breathing it all in, feeling the amazing gift of health that had been returning, slowly, slowly, over time. Then it hit me—I am walking again! Even though my foot has not quite yet reached its full and complete blueprint of perfection, I'm much more mobile, and this ability to resume our walking practice has felt like a small miracle.

In Walt Whitman's poem,
I Sing the Body Electric
, he speaks of a sensual and profound rapture contained within the body. Since eating raw foods, we too have experienced this with a growing frequency, when every aspect of our being comes into harmony and we are bathed in states of bliss.

In the chamber of the heart, all answers can be found. This is living a love-based life, a life in which body, mind, emotions, and spirit are inseparably united as One—in total acceptance, wholeness, and purpose!

Be humble and know
the heart of God has touched you
with holy caresses.