Mouth-watering, tantalizing, tangy-sweet, and richly flavored, this delicious stand-alone entrée is such a treat to make and serve! Tomatoes, golden mangos, zucchini, papaya, and red bell pepper meld with pungent spicy curry for a curl-your-toes-good-dinner! Serve warmed, straight from the dehydrator.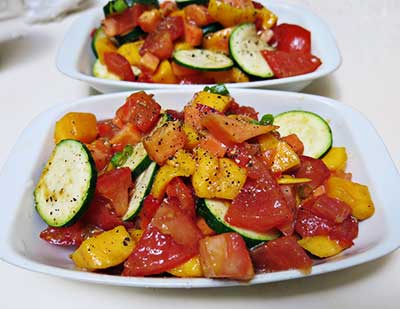 Ingredients: Serves 2
3 medium tomatoes, chopped into bite-sized pieces
2 golden mangoes, peeled, flesh cut off pit, chopped into bite-sized cubes
1/2 small zucchini, sliced into thin rounds
1/4 cup red bell pepper, minced
1/4 cup papaya, cut into small cubes
3 tablespoons green onions, finely sliced
1 tablespoon Juniper Balsamic Vinegar
1 tablespoon Spectrum Walnut Oil, or your favorite oil
1 tablespoon Coconut Aminos
1 teaspoon curry powder
Freshly cracked black pepper

Directions
Prepare fruits and tomatoes. Place in large bowl.
Add curry, oil, and mix well.
Transfer to individual entree dishes.
Top with freshly cracked black pepper.
Warm in dehydrator for 2 hours at 115 degrees.
Eat immediately while still warm.

The Little Story: Co-Creating with Life! Microgreens Update III
I am in awe of the beauty and power of growing things! We're steadily moving forward with the sprouts and microgreen experiment—co-creating with life—and reaping the benefits of higher states of health and well being that these amazingly fresh foods bring.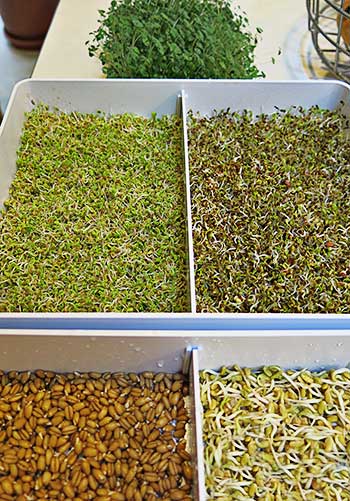 We got some new sprouting trays from the Sprout People, called a
Sproutmaster
. One reason I wanted to get these new sprouters is that the sprouts grow vertically which will allow for better drainage and air circulation. Also, the trays can be stacked, which is handy. Prior to this time I've had some batches of sprouts go bad when growing in mason jars—somehow they were getting a bit soggy in the middle despite draining them well. Perhaps there were too many seeds in the jar to begin with, causing them to become too compact for air circulation. Perhaps when pulling sprouts from the jar to eat I damaged some which led to spoilage. This new tray should work much better, as I can gently lift out sprouts to use for each meal.

What's showing in the photo are two different kinds of leafy green sprout mixes—Sprout People's "
French Garden Sprout Mix
", and a clover-alfalfa-radish mix. I soaked seeds in jars the day before, rinsed and drained, and left them overnight to begin sprouting, then transferred the seeds to the Sproutmaster. And look how much they grew in just two days! The wheat berries were just beginning to open, soon to send out shoots to become wheatgrass. I learned too, that fenugreek (bottom right) will grow into a leafy microgreen as well, unless we eat them first!

Once the leaves come out, they can stay by a window and look pretty as they green up. The microgreens in the photo have been growing in indirect light in the kitchen. They also get sprayed with liquid kelp. To make, put 2-3 teaspoons of kelp powder in 1 and 1/2 cups of pure water, let it sit for a day, strain really well, and transfer to a spritzing bottle. This gives the little guys minerals since they grow without soil.

There is such vigor here, with life teeming and awakening! I'm amazed to see it all, and when I think about the gifts of eating these foods, taking it all in, I feel much gratitude and love. Food can't get any fresher than this, and the results are often remarkable.

I'll close today with this passage from
Temple Food
, about life and co-creating:

"What has Life brought to us today? What gifts have washed upon the shores of our being? Perhaps it's a moment of heightened consciousness, a moment of emptiness, a loss, an opened heart, or a feast.

Life's experiences deepen us, stretch us past comfort zones which can bring us to profound states of gratitude, and inspire a willingness to move even further ahead—growing in the sun, mellowing like tea as we're permeated with the water, drinking in the heavenly nectar.

If we're co-creators with a higher power, then what are we creating? If we can dream any dream we want, what will we choose?"