Here's a salad that's as green as green can be, and it's saturated with mineral rich nutrients. The directions look like there's a lot of effort involved, yet it only takes me about 15 minutes to make. This was created utilizing intuitive food preparation and eating.

Several mini-salads (broccoli, wilted kale, along with the spinach and cabbage) are combined to make a delicious medley, each element complementing the other and adding invigorating tastes and textures. No extra dressing is needed because the Oriental Broccoli Mini-Salad is so rich in flavors, it carries all the ingredients in the salad. (The magic components are toasted sesame oil, and a wonderful honey ginger balsamic vinegar that we recently found.)

Ingredients and Directions for Wilted Kale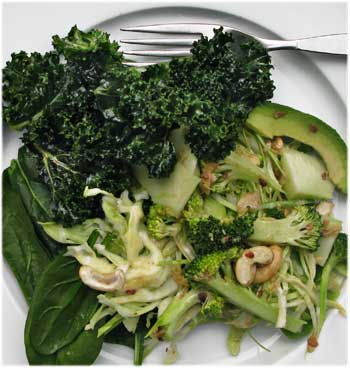 2 leaves curly green kale, rinsed, and torn by hand
1-2 tablespoons favorite oil (we use Spectrum walnut oil)
1 teaspoon
West Indies Rub

Pull kale off of thick stems by hand, or cut with a knife.
Put into bowl. Add oil and West Indies Rub.
Mix with hands until evenly coated.
Spread evenly onto a glass pizza baking dish or Teflex dehydrator sheet and tray. Set temperature to 110 degrees and warm for 15 minutes.

Ingredients and Directions for Oriental Broccoli Mini-Salad
2 cups broccoli (stems and florets) rinsed and chopped into small pieces
1/2 small Haas avocado, peeled and sliced
4-5 tablespoons cashews
2 tablespoons green onion, finely sliced, for garnish
2 tablespoons
honey ginger balsamic vinegar
(If you can't order this, substitute with unseasoned rice vinegar or fresh lime juice.)
2 tablespoon South River Aduki Bean miso (substitute with your favorite miso, or wheat-free, low sodium tamari)
2 tablespoons toasted sesame oil
1 tablespoon ginger root, freshly grated
1 small clove garlic, pressed

Cut off tough outer stem of broccoli. Slice diagonally. Cut florets into small bite-sized pieces. Put into mixing bowl.
Put oil, miso, ginger root, garlic, cashews, toasted sesame oil, and vinegar into small mixing bowl and whisk to mix well. Pour on top of broccoli and toss to evenly coat.

Ingredients and Directions for Cabbage and Spinach
2 cups cabbage, rinsed, drained, and super-finely sliced with mandoline, or sharp knife
1 cup spinach leaves, rinsed well, patted dry, stems removed, torn if needed to desired size

Put cabbage into a large serving bowl. Prepare spinach and set aside to add at end.

Assembling the Salad
Put the Oriental Broccoli Mini-Salad on top of cabbage. Slice avocado on top. Add green onion garnish. Don't toss.
Dish up onto serving plates.
Place wilted kale and spinach on the side, arranging as desired.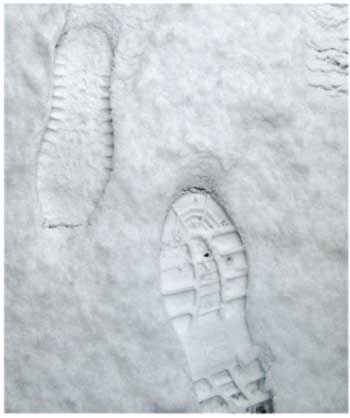 The first part of this Little Story came from a time when we lived in the historic town of Guilford, Connecticut, during a favorite walk along Fair Street, on the way to the town green.

Outside the air was clean and fresh, the sky a luminous pastel yellow that made everything aglow. Shadow hues began to emerge in that magical time of late afternoon. On some of the trees where icy crystals had melted, the colors were of darkest hues with bluish-purple undertones on shimmering branches of brownish-black, smooth and wet, catching light reflections from the sky and ground below.

As I walked I saw footprints, snowy etched imprints of many owners' boots, each unique and distinct, and alongside were the paw prints of canine friends, out for their afternoon walks. I took note of how the pathway was covered by these markings and wondered about the stories they could tell.

I thought for sure I'd be able to find my own bootmarks on the return trip home, but most had already been obscured, trodden over by others. This meant to me that even though we may find traces of our past, we can never really go back to another moment in time. We are forever moving forward, onward, or even "now-ward". Our journey lies in each moment, never to be repeated again in the same way. This struck me as a powerful element of life, the opportunity to make a fresh start, much like newly fallen snow. How we choose to live each moment is our own.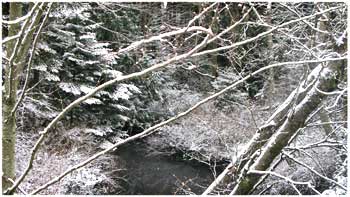 Here in Fairhaven, we're having our first week of snowfalls. Ever since we moved into the condo, I've wanted to lie on the sofa with the fireplace going, and watch the snow fall into the woods, because there's an energy that comes with snow that's unlike any other. It puts me into a zone of deep peace (unless I'm driving!).

From time to time, my thoughts return to a poem a friend wrote many years ago, called "God's Music, White as Snow". It spoke of a place in the heavenly realms where the illuminated love of God fell like snow. When I see snow falling, I often feel this love, this blessed energy. And today as we walked along the path into the village we paused, and I turned to Rex and we kissed, with snow falling around us, and God's love flowing through the world and into our hearts.