We're in love with this new seed cheese! It's what we've been envisioning all these years. We've always made it in the blender, and water was needed so the blades could turn. This created a more yoghurt-like cheese. Our new version is made in a food processor, so less liquid is required. The result is a very thick, lemony, and tangy cheese that can be hand molded into delightful rounds. These are sprinkled with sesame seeds, salt, pepper, and herbs to add a bit of crunch and punch. Serve with crackers, breads, veggies, crudites, in wraps, or even in soup. This is perfect holiday or party food to share with those we love. And it's even better the next day!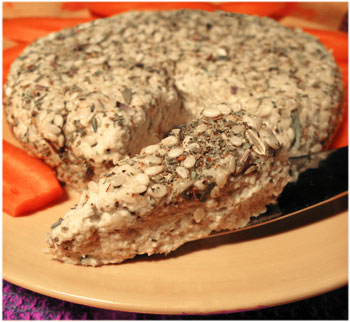 We made a lovely quick lunch with a leftover round and served it with spears of cucumber, celery stalks, guacamole, and a few slices of Bubbies pickles for a garnish. Yum!

The quick version is to put the cheese into a bowl (without molding it), add the topping, and serve as a dip!

Ingredients: Makes two 4 inch rounds
1 cup sunflower seeds, soaked 6-8 hours, or overnight
1/4 cup dry raw cashews
6-7 tablespoons fresh lemon juice (about 3-4 lemons)
4 tablespoons water
4 tablespoons green onions, minced
1 small clove garlic, peeled and pressed
1 tablespoon Herbs de Provence (in spice section at grocery store)
1/2 teaspoon Himalayan salt
Sesame Seed Topping:
2 tablespoons sesame seeds
1 tablespoon Herbs de Provence
1/4 teaspoon Himalayan salt
1/4 teaspoon fresh black pepper

Directions
(the first 4 steps take about 5 minutes of actual time to do)
Soak sunflower seeds in a one quart jar with pure water for 6-8 hours or overnight.
Transfer to a large bowl, fill halfway with water, and rub seeds between palms. Scoop and rub about ten times. (Takes about 1-2 minutes.)
Pour off skins that float to the top through a strainer. (They make the cheese turn grey, and the texture is nicer without the skins.)
Repeat process of rinsing and pouring off floating seeds several times until most skins are gone. (Takes about 3 minutes.)
Pour seeds and water through a strainer, giving a final rinse with pure water. Drain well, and transfer to a food processor.
Add cashews, lemon juice, salt, garlic, and process until smooth. With my small Cuisinart, this takes about 3 minutes.
While the food processor is running, mince the green onions, and get the herbs ready to add.
When cheese is as smooth as can be, add in green onions and herbs. Pulse to mix.
Transfer cheese to a bowl, and divide into halves to make two rounds. (Or leave in bowl, adding final topping, and serve as a dip.)
Form into balls by hand, and put onto a plate. Sprinkle topping all over top and sides, and press in lightly.
Let sit for one hour for flavors to meld. Refrigerate, unless you're going to use it right away.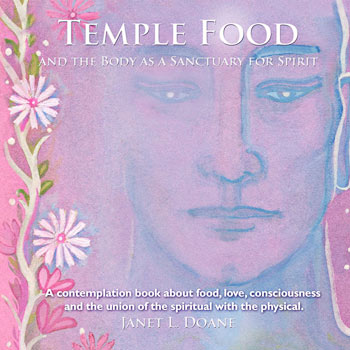 We can't believe it—so many blessings this week to share! The seed cheese recipe, the book, the archive section that's been newly revised, selected images from the book made into prints, available now in the Little Store. The archive will be much easier for you to find your favorite foods, plan dinners, special events, or just day-to-day meals.

First to announce is the book,
Temple Food
: I have to say that this was a spiritual gift to me. It just "appeared" one day early last November, and I couldn't leave it alone. I was on fire with the whole idea of temple food and what that might be. I had to write about it, and explore as many levels as possible.

I knew right away that there would be beautiful photographs to help tell our story about food and consciousness, and I started creating paintings to go with the poems that were emerging from deep within. Looking back, it's been a Soul project, a heartfelt experience every step of the way. We thought that
The Healing Feast
book was what was going to manifest last fall—in fact I'd started to work on it, but then we had this surprise. So maybe
The Healing Feast
book will come next year!

In the interim, the
archive
has been redesigned with a sleek new look with an easy to use accordion drop-down menu, thanks to Rex's genius in the programming department! In fact, everything that you'll see in The Little Store has to do with Rex's talents. Without his expertise, none of this would have happened, and I mean none! I'm not a computer person, although I know my way around InDesign and Photoshop, but the internal workings of a computer and how to program something like a store, a shopping cart, an archive, or how to convert a book into a Flash turning pages format, are not in my realm of understanding.

And last but not least, we are now offering
archival prints
—beautiful 16" x 20" signed, giclee prints from selected images of
Temple Food
. They have a different look from the book, and they can be collected and rotated to bring healing and inspiring energy into your home. (If you are reading this and live outside the U.S., shipping costs are high, so please contact us and we'll see what we can do.)

I think one of the reasons that Rex and I were born was to make this partnership, to combine our talents to serve in the world. Write to us and share your thoughts. We'd love to hear from you!

With blessings and much gratitude!