We're taking advantage of the last days of summer and the bountiful crops of peaches to make this luscious and spicy chutney. One of our favorite local organic farms,
Joe's Garden
, has been having an abundance of huge, juicy, ready to eat peaches, and we've been indulging daily. Often our breakfast is a big bowl of peaches and nectarines—they're so delicious!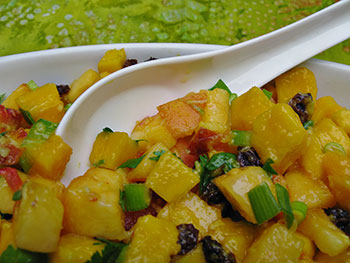 For our easy chutney recipe, mangoes and peaches combine with ginger, raisins, and other spices to make a wonderful, chunky chutney to spoon on top of your favorite foods for a mouth-watering treat! It can also be savored just as it is.

Ingredients:
1 and 1/2 cups mango, peeled and diced
1 cup peach, peeled (if needed), pitted, diced
1 Hass avocado, pitted, peeled and sliced
4 tablespoons raisins, soaked, optional
12 cilantro leaves, cut
3 tablespoons green onion, super finely sliced
1-2 tablespoons ginger root, super finely grated
2 teaspoons balsamic vinegar, optional
1 teaspoon Ras El Hanout, or a mix of the following spices:
- 1/2 teaspoon cinnamon powder
- 1/2 teaspoon fenugreek powder
- 1/2 teaspoon coriander powder
- 1/2 teaspoon fennel powder
- 1 tiny pinch cardamom powder
- 1 tiny pinch cayenne powder

Directions
Put raisins in bowl and cover with pure water for 1-2 hours to plump. Drain.
Combine all ingredients in a bowl and mix well for a chunky chutney.
Or, put all ingredients into food processor and pulse to desired consistency.
Serve immediately, or allow to sit for one hour for flavors to meld.
At the farmers market we got really hungry as we wandered around the food stalls, smelling the tempting offerings; fire roasted pizza, Ethiopian and Indian foods, assorted salads, meat dishes, rice, pasta, and so on. The picnic tables were filled with people enjoying one delicious looking dish after another. I nearly caved in, and was sorely tempted to get one of just about everything!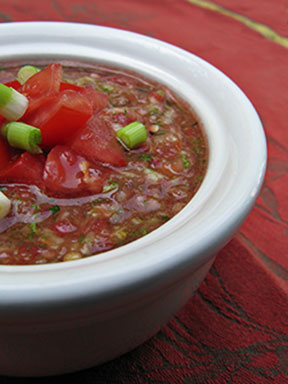 Holding it together until we got home, I made a beeline for the kitchen and whipped up the Spicy Mango-Peach Chutney for today's recipe, and then felt a surge of energy and created a feast. Along with the chutney I made a Quick Tomato Salsa (fresh tomatoes, a little parsley and leeks, a pinch of Himalayan salt, some fresh cracked black pepper, and a little olive oil, all pulsed in the food processor), sliced avocados, fresh corn cut off the cob, and spiralized zucchini for pasta. These were then piled high on crunchy inner leaves of romaine that were used for wraps. And the final result was absolutely wonderful.

One of the things that helped me to not eat anything cooked at the farmers market was that I'd just joined
Cleanse America 3
a few days ago. (It's in it's second day today, but there's still time to join.) I really enjoyed my experience during Cleanse America 2, and made some lovely connections with people, including Penni Shelton, one of the core team members.

She recently spotlighted my recipe for
Sprouted Buckwheat Foccacia
with a spinach, mushroom, and zucchini topping on her highly successful webisite,
Raw Food Rehab
, as a part of celebrating National Mushroom Month. I was so honored and happy to be part of Penni's vision. So I wanted to support Paul and Penni once again.

Cleanse America is a great program to learn what it's like to eat raw food and to cleanse for a period of ten days. There are two basic options: One is to have any kind of raw food, both solids and liquids. The second option is a liquid diet, but you can have things like hemp seed milk, smoothies, elixirs, juices, and so forth. Recipes come when you sign up. There are several cleanses each year, so if this one doesn't work there will be more coming.

Here's a brief outline of Paul's vision from the website. "What is Cleanse America? Cleanse America is a calling and intention. The calling is to share the message of transforming the state of health in our nation—body, mind & spirit. The intention is to inspire 1,000,000 Americans to participate in a 10-Day raw food cleanse and to also help support their communities in getting on board. The veil is being lifted and now is the time to cleanse, heal and rejuvenate. Join us and let's have an amazing time as we each play a part in the transformation of our nation."

I don't know what made me so hungry that day at the farmers market. I literally devoured the food that we made at home, and had the best time doing so. If we could have gotten a meal like this at the farmers market, I would have been in heaven! Maybe some day there will be raw food stands all over the country, supporting our needs to live on a super clean diet, providing solutions to the country's health concerns, all done through the delicious and savory medium of living foods.