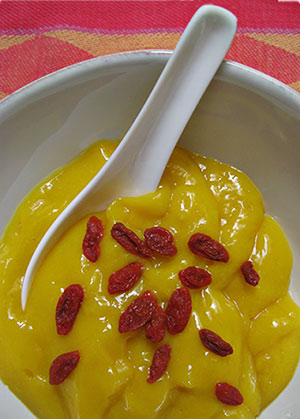 This has got to be one of our all time favorite dishes. It's thick, luscious, gorgeous, and tastes like ambrosia. Dig into mounds of velvety smooth mango pudding, topped with a few Goji berries, soaked for a few minutes to soften. Enjoy this treat for breakfast, desert, a snack, or for an amazingly delicious, and easy to digest late night meal.

Ingredients: Serves 2
4 ripe golden mangoes or 2 larger red mangoes
Note: Mangoes should feel nice and soft to the touch before using.

Directions
Remove large pit from mangoes.
Stand mango up lengthwise, its narrow side facing you.
Make a cut about 1/2 inch to the right of the center of the mango, and slice all the way down. Repeat process on the left side.
Remove peel from each half, and from the outer edges of the pit. There's still juicy delicious fruit there.
Cut as much flesh off the pit as possible.
If mangoes are really juicy, squeeze the pit by hand, but be careful! Mango pits have sharp edges.
Put fruit into blender and blend on highest speed until velvety smooth.
Don't add any water or it will dilute the fruit down, and you won't have the thick and luscious texture.
Transfer to bowls, and be prepared for a taste sensation.
Sometimes progress happens so quickly it can take our breath away. Other times progress takes a longer time, even years. In our case, we had a recent phone consultation with naturopath, master herbalist, and iridologist,
Dr. Robert Morse
, whose herbs we've been taking for the last 18 months, and to whom we've been sending eye photos every six months. Being a gifted
iridologist
, he was so genuinely happy to tell us about all the changes and improvements that he could see taking place in our eyes.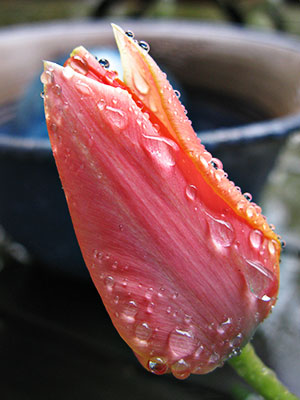 Rex and I were ecstatic to hear this because we've been doing healing practices for many months: detoxing from heavy metals and other neurotoxins and chemicals, periodic 5 day liquid diets, our 21 day juice fast last summer, colonics, taking Dr. Morse's herbs daily, staying raw (or mostly raw), drinking juices, soaking in detoxifying clay baths, exercising, and more. In short, we've been doing the work, hard as it's been at times, and it's starting to show, not only in how we feel, but as visible changes in our eyes.

As a child my eyes were blue. When I was five a tonsillectomy changed all that, and within a year I had green eyes. I knew it meant something was wrong, but didn't know what it could be. A year later to my dismay, my eyes had turned hazel as toxins backed up even more. As I've healed, the reverse is happening. The hazel color is gone, and the eyes are becoming blue again!
Fully Raw Kristina
posted a Youtube about how her brown eyes are turning blue after eight years of being a totally raw food vegan. Through diet and exercise her body has cleansed and healed on a very deep level.

Change, and the process of change can take time. For Rex and me, it often will be a year before we can manifest a lifestyle change that we know will benefit us. The process usually works like this: New information comes to us and we feel this is what we need to implement for the next step. There's a trial period when we begin to integrate the new step as best we can. Yet despite our intentions our plans don't take hold. Then, a year later what we had wanted to do spontaneously reappears all by itself, and this time it sticks.

So if you're in the midst of making changes, we're rooting for you. Because from what we've experienced (and if you're like us in this regard), the work that's being done now is going to be worth it! To me, this means having greater health and vitality, not just for now but extending into the future. Positive changes happen, as simply as a flower opens up to the fullness and purpose of life.