The first crop of juicy Bartlett pears have come in, and they play a key role in our Mile High Dinner Salad. Crunchy greens, succulent pears, and creamy avocados, are piled high and garnished with a sprinkle of slightly bitter walnuts and sweet raisins. This creates a full spectrum of tastes and textures to enjoy while eating.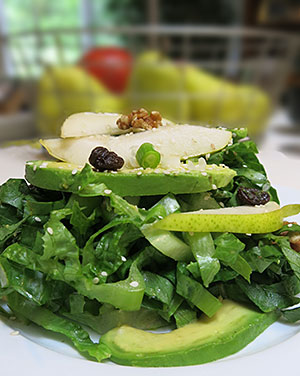 Use a mold to construct your salad for a beautiful presentation for special occasions.

Ingredients: Makes one large dinner salad
2 1/2 cups greens, thinly sliced (romaine, butter lettuce, spinach, etc.)
1/2 pear, sliced
4 slices avocado
4 walnut halves
6 raisins
1 tablespoon finely sliced green onion
Juice of 1/2 to 1 orange (depending on juiciness)
Sprinkle of sesame seeds

Directions
To construct this salad I used a 4 cup Pyrex measuring cup, but a bowl would also work.
Put pear and avocado slices, walnuts, raisins, and green onions in first.
Add the greens.
Place a dinner plate on top of the mold and turn it upside down.
Remove the mold. What was on the bottom is now on the top!
Squeeze orange juice on salad for the simplest dressing—or use your favorite dressing.

The Little Story: The Creative Kitchen!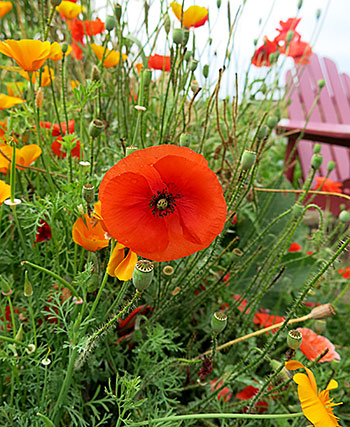 I love to enter the realm of creation while I'm in the kitchen! I find all the elements for co-creation exist there, in the cupboards, the fridge, as well as in my consciousness and in the world around me.

My intentions and desires ripple out and touch the surrounding atmosphere and environment which then reflects unique ideas back to me. I'm thinking that huge amounts of information pass back and forth in this way every second! Staying open and watching what excites me, being inspired through the beauty of nature, books, movies, music, comments that people say, posts on Facebook—these have the potential to become creative clues that can guide me. Like a layered dance of reciprocity, intelligence and love take the lead, and they always move me toward the highest and greatest good, not just for myself, but for all.

For me, the kitchen is an amazing place to experiment, to play in, and to experience that bubbling, crazy, exciting, and often messy creative process that makes life so much fun. Plus there's the added bonus that the final product—a meal—is almost always delicious to eat!

Because our kitchen is stocked with the ingredients needed for spontaneous food preparation, the act of creation is like an open door for new recipes to be born, like this Mile High Dinner Salad that just "popped through". When it did I knew in a heartbeat that this was what I wanted to post for this week's Healing Feast.

If I could share one thing it would be to be led in the kitchen to discover and create for the highest good, for the highest health, and for a love of life. Then reap the rewards of eating amazing food to nurture the body, mind, and soul. All the while relishing the process of collaboration and feeling the deep satisfaction and pleasure that co-creativity brings.