On many days I'm struck with gratitude, awe, and appreciation from the sheer beauty in the foods that we are fortunate enough to eat. This delicious, power-packed green juice helps us start the day with the best kind of energy, and fuels our activities for hours. Freshly made juice and raw foods, coupled with daily exercise, makes a winning combination.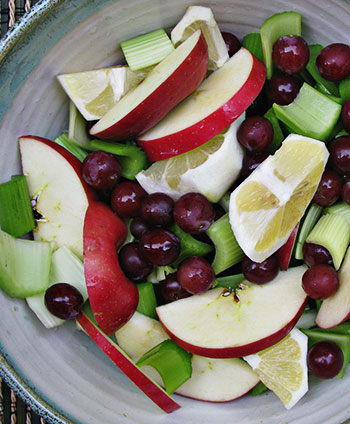 Ingredients: Makes 6 cups
2 heads romaine lettuce, or a mix of lettuces, spinach, dandelion greens, etc. (If you're not crazy about greens, use less.)
1 head celery
2 large apples, chopped
1 cup grapes
2 lemons, depending on size, peels cut off

Directions
We have a Hurom juicer (also known as an Omega VRT), and it works best if we cut up the fruits and veggies. It will do greens, but not a lot at one time. Because we juice up so many greens, it works best for us to loosely chop them and put them into our Vitamix along with the freshly made juice. Then we blend for about 60 seconds, and strain through a nutmilk bag. This makes the smoothest, most delicious juice.

Rinse all ingredients in cool running water followed by a final rinse with filtered water if needed. Prepare for your particular juicer, and juice. Strain if desired. Drink immediately, or cover tightly and put in fridge to drink later in the day. The lemon in the juice keeps it from oxidizing.

The Little Story: Morning Health
The morning is a great time to get hydrated and nourished on a cellular level, and in this regard juice plays a vital role. For years I've read about the raw food "greats" who have green juice first thing in the morning. Or they have water with lemon juice to help flush out the kidneys and liver, and aid the lymph. Their practices send a strong message which resonates with me, and although I'm not drawn to lemon water first thing in the morning, I do love adding lemons to our green juice.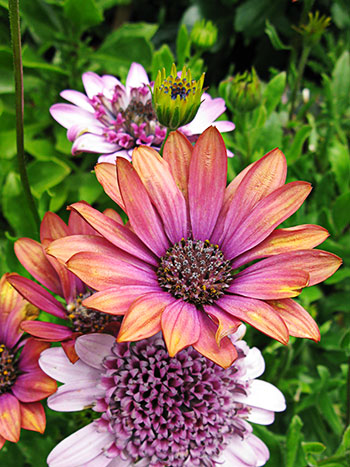 Sometimes I think I don't have enough time to make juice, and then I remember a story that David Rainoshek (who pioneered the 92 day Juice Feasting program) shared about how he got up at 3 in the morning to make 2 gallons of juice every day! He made one gallon for himself, and the other one for his father. He did this because he'd made a pledge to his father (who was slated to have back surgery), that he would make juice for him for 92 days, and that he would also go on a 92 day juice fast with him!

This act of love was astonishing to me. And the beauty is that somewhere around the 40th day his father told him that all the pain in his back had left him, and the surgery was cancelled.

When I first learned about juicing many years ago through a book by Dr. Norman Walker,
Raw Vegetable Juices, What's Missing in Your Body?
, he talked about needing a pint or two (2-4 cups) of juice a day to make a difference. At the time that seemed like a lot. As we got into juicing more and more we realized he completely understood the amount of juice that the body would need to really change the levels of health and healing. He was a pioneer of raw food and juicing, a brilliant chemist, and lived to be over 100 years of age before his death in 1984. His books continue to be classics in the raw food and juicing communities.

Again and again, Rex and I find that taking the time to make juice (whether in the morning or later in the day), is worth it. The surge of living food nutrition floods our bodies, and benefits us on every level—physically, emotionally, mentally, and spiritually—and puts us in the "zone" where quiet miracles can take place every day.