We've become crazy about Sea Palm, an ocean green that we're making into delicious salads almost every day, with added zucchini ribbons, lettuces, and more. When soaked, Sea Palm unfolds into fronds, and teams perfectly with all kinds of veggies and fruits to make salads bursting with energizing goodness, beauty, and wonderful tastes. The flavor of Sea Palm is so mild—it's not at all what you might think! This hearty salad has become one of our valued staple recipes, perfect for fall weather and winter days to come.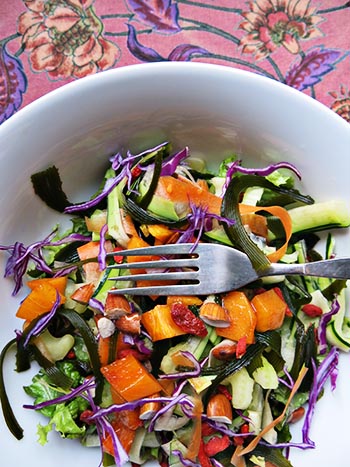 We purchase ethically and sustainably hand harvested ocean greens from Ocean Harvest Sea Vegetables. They regularly test for heavy metals and radiation and the greens come up clean every time. I've had the pleasure of speaking with Terry d'Selkie who heads up the Ocean's Harvest operation in the wild and handles the orders—such a dedicated and inspiring woman—thank you Terry for all you do!

This excerpt is from her website,
Ocean Harvest Sea Vegetables
:
The Worlds first food, "Sea Veggies", are high in trace minerals, as well as iron, calcium, iodine and vitamins, including B12, making them essential to any nutritious diet. We harvest our sea veggies from The California Coastline in Mendocino. This coastline rates in the top 5% of the World's richest and most pristine waters. A place where the current and the tidal upwelling so enriches the marine flora that only a few other areas in the world can rival the richness and diversity of this bountiful aquatic garden. We hand harvest the veggies at sunrise during the low tides of the new and full moons, we take them home to the redwoods for drying in the sun; to preserve the prana of the veggies. Ocean Harvest has been providing Macrobiotic Quality Sea Vegetables for 20 years.

Here's a delightful YouTube
of Terry gathering the Sea Palm fronds. Enjoy!

If you've ever wanted to learn how to harvest and dry sea greens, like Rex and I do, and discover more about their nutritional bounty, many uses, and how to eat them raw or cooked, Ocean Harvest offers an annual hands on event, a Seaweed Safari, and what you harvest you take home!

Also, not to be missed! Terry has created two wonderful
recipe booklets
, one for raw foods, and one for cooked meals (with a few raw salads) to inspire us to eat more sea greens. I can hardly wait to begin trying them out—the lists of ingredients makes my mouth water! Many recipes also appear on her website.

Ingredients: Serves 4 as a dinner salad, or up to 8 as a side dish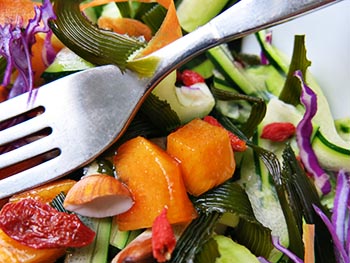 2 cups zucchini ribbons (directions follow)
2 cups romaine, chopped, or a mix of your favorite greens
1/2 cup dry Silky Sea Palm (press into a measuring cup to determine approximately 1/2 cup before soaking in water)
1/2 cup celery, finely sliced
1/4 cup carrot ribbons
2 tablespoons green onions, finely sliced
2 tablespoons goji berries, rinsed (if they need to be softened)
1 tablespoon finely grated ginger root
1 ripe Fuyu persimmon, peeled and diced, for garnish
12 soaked almonds, cut in half, for garnish
Red cabbage slivers, for garnish

Directions:
Put Sea Palm in a bowl and cover with pure water. Let sit for an hour or two until soft.
Rinse lettuce, shake dry, or use a salad spinner. Chop into bite sized pieces. Transfer to a mixing bowl.
Rinse zucchini in cold water, shake dry.
Using a veggie peeler, run it up and down zucchini lengthwise in one continuous motion to make long ribbons. Cut to desired length.
Drain Sea Palm, pouring into a strainer. Give a quick rinse, and drain. Add to bowl.
Rinse carrot, and peel or scrub skin. Make ribbons with a peeler as described for zucchini. Add to bowl.
Finely slice green onions, grate ginger root, and add to bowl.
Add goji berries, and mix all ingredients well.
Transfer to a large serving dish, garnish with almonds, cabbage slivers, and persimmon.
Use your favorite dressing, or try this one!

Tahini-Lime-Garlic Dressing: Makes an ample amount for 4 people
1/2 cup pure water
1/4 cup lime juice (approximately 2 good sized limes, squeezed in a citrus press)
1/4 cup tahini
4 Medjool Dates
2 cloves garlic
1 shake cayenne pepper
Put all ingredients into blender and blend until creamy smooth

The Little Story: Holiday Warm-up!

In America, Thanksgiving marks the onset of the holiday season with the welcoming of friends and family into our homes, or other gathering places for heartfelt celebrations and feasts. I love how this holiday is all about sharing, and embraces people no matter what one's religion or creed. Gratitude for the bounty, giving thanks for all that is good, and opening our hearts to the love that touches us, fills us up as much as the food!!

To get a head start on the holiday season, I put together this photo collage from my book, Celebrate, to bring inspiration and ideas for making new recipes for the these special meals. The book features menus for Thanksgiving, the Winter Solstice, Christmas, and the New Year. Recipes are available here on
The Healing Feast
too. (For anyone interested in purchasing a copy,
here's the link to Amazon
, and to
Bookdepository.com
in the UK that offers an amazing deal of free shipping worldwide!)

Shown in the collage starting at top left, are Mile High Dinner Salad, Marinated Pickellini Appetizers, Almond-Persimmon Cookies with Warmed Blueberry Sauce, Fruit Tarts, Tomato-Yam Bisque with Curry & Garam Masala, Curried Yams-Balsamic Beets-and Lemony Apple Tower Salad, Wild Rice with Marinated Mushrooms, and Almond Butter Coconut Truffles.

Let's celebrate the season with loved ones through giving of ourselves, sharing a gentle harvest, and the best of who we are. Set a beautiful table. Light the candles, and put on your favorite music! Dive into the creative waters and bring up something new, fresh, and beautiful, like our Ocean Greens Dinner Salad.

Tell stories—the best ones about how a transformation of our spirit has come—give thanks to life for the bounty and simple gifts like a sunrise, moonrise, a smile from a stranger, and the very breath we take. Savor traditions too, honoring our past, appreciating where we've come from to get to where we are now, and bless the food—there is so much comfort and joy to be found!