Some of you may have already seen this recipe because I posted it on Facebook a few weeks ago, and it got a great response. This is a simple, refreshing breakfast, taking minutes to prepare. The taste is delicious, and the colors are beautiful. There's something satisfying too about the combined textures of the juicy, melt in your mouth pears with the firmer persimmons. Enjoy as is or with a cup of your favorite tea. If you don't have persimmons, substitute with goji berries or raisins, soaked for a couple of hours.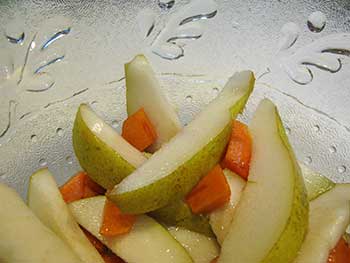 Ingredients: Serves 2
2 ripe pears
1 ripe persimmon

Directions
Rinse pears in cool water.
Remove any bad spots from skin.
Cut into quarters and remove core.
Slice into spears.
Peel persimmon. Chop into little cubes. Check for occasional seeds in core.
Gently mix, and serve immediately.
We're integrating five day liquid cleanses (juice, smoothies, blended warmed soups) into our daily diet by going on a cleanse every other week. This means five days of cleansing, and nine days of normal eating. For the winter, it feels right. This cycle will become the instrument for new levels of transformation.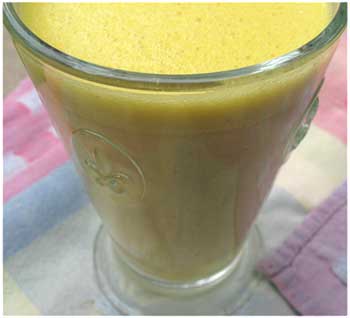 We just finished our 2nd cleanse, and it's definitely working. Both times by day four we were showing signs of detoxification, but nothing too serious. I experienced some face breakouts, and we both had a little tiredness and slight mental confusion, and one 30 minute bout of dizziness that suddenly showed up on the evening of the 5th day after a hot bath. These were enough signs to let us know that the body was definitely housecleaning, and that five days is enough time to make some progress.

During the five days we consume liquids any time we're hungry. We listen to our intuition. And there's water too, which on some of the days I craved. We had some fats too, usually a couple tablespoons of hemp seeds, or soaked chia seeds, or 1/2 of an avocado that was blended up in our smoothies. This helped to keep us satisfied. It hit me that these cleanses are more like nutrition intensives, because of all the produce that's consumed, especially when practiced over a period of months. It's not a deprivation at all, but it
is
a discipline. Our intention is to continue with these cleanses until we feel the cycle has run its course.

For a great real time cleanse,
Cleanse America 4
is happening right now through the vision of Paul Risse. It's all happening on Facebook. I signed up again (my third time), and I'm finding it's a wonderful way to connect with Paul, and a group of people who are going through a powerful, shared experience. There's videos, conversations, and you can access Paul, which is really great, and it's still not too late to sign up. The cleanse will run through Sunday.

I feel 2013 is going to be an amazing year, filled with discovery, healthful changes, and deeper levels of experiencing love. For me, feeding the body with the most vital, living, nourishing, and purifying foods, is an act of love. When I do this, I'm at my very best, and the light of Spirit can shine more brightly.

And from the love in our core essence there's an outflow, a natural desire to give love to the world through simple daily acts that touch the hearts of the people we meet, and those dearest in our lives.

Join with us, and make the changes that are right for you, changes that are needed to manifest greater health and healing, and living a life where dreams are made real! Remember, Gandhi once said, "Where there is love there is life."