We're living in a sea of potential, an ocean of pure energy. Rex and I find that some practices work for awhile, then they don't fit anymore. This is because we are continually growing, evolving, and changing.
And thank goodness—it would be pretty awful to be stuck in the same place forever! One basic meal that's stayed with us for years is our morning smoothie, yet with a list of changing ingredients to meet our daily needs.
Right now, we have two favorite smoothies that we make: one that's nourishing, easy to digest, and loaded with EFA's, amino acids, enzymes, vitamins, minerals, and protein. The second drink we've dubbed "body food", because it's a pure protein power kick that keeps us going strong for hours and helps us move through our day with energy, mental clarity, and grace. It's not as flavorful, but wow!
We've added links you can click on so you can learn more about these nourishing, body building ingredients!
Morning Nourishing Smoothie (serves 2-4):
2-3 bananas (depending on size)
1/2 to 1 cup
sprouted buckwheat
1/2 to 1 cup sprouted wehani rice
2-3 tablespoons
hemp seeds
1 tablespoon
bee pollen
1 tablespoon finely ground
chia seeds
3 cups pure water
Directions:
First sprout
buckwheat
and
wehani rice
.
(Click links for sprouting directions.)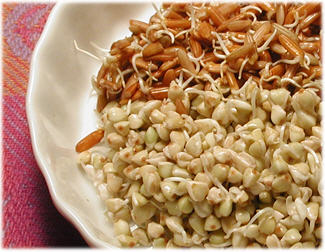 Buckwheat sprouting seeds can be found on Amazon
(be sure it says "sprouting" on the label).
Rinse sprouted buckwheat and wehani rice. Drain. Put in blender.
Add remaining ingredients to blender.
Blend on highest speed for about one minute.

Note: A Vitamix works wonders with harder to blend foods such as wehani rice. If you don't have a high-speed blender, you might consider leaving out the rice, unless you don't mind a bit of texture in your smoothie, and use only the buckwheat sprouts which will blend up very smoothly even without using a Vitamix.
Power Kick Smoothie (low glycemic!): serves 2
2 scoops
Sun Warrior
protein powder
2 tablespoons
bee pollen
1 teaspoon (or more)
Vitamineral Green
2-3 cups pure water
This particular combination is powerful. We feel the effects of the protein powder more when we have it this way than when added to our smoothies with buckwheat or wehani rice.

A word about bee pollen: test for any allergies by ingesting one granule to start.

A Little Story: Life, Life!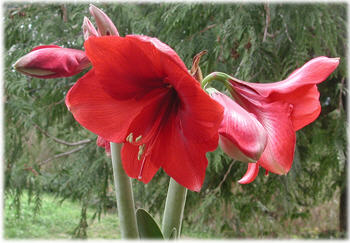 As I write, the message that keeps coming through is that it's all about living, about life itself—amazing, abundant and spectacular in all its aspects—beautiful, exciting, or even painful.

Life continually astounds me with moments that encompass so many states of consciousness and experiences. Whether this happens in a heartbeat, a single day, or throughout a whole lifetime—such moments stretch us, shape us into who we have become, through lessons that help us grow, love, and express more compassion, and oh, so much more!

Here's a photo of an amaryllis that we brought home this year, blooming its heart out with such glory! It seemed like a perfect expression of a lifeform that is bursting and vibrant, reminding us every day that we can be, and bloom, this same way!

For us, the power behind the transformation of our lives comes from what is found in our hearts, the absolute beauty of Soul, and the guidance it brings—from the formless realm of Spirit into this world of creation.