It was the night of the Academy Awards, and we'd been invited to a potluck at Dan and Charm's house. We made this savory and piquant Creamy Tarragon Sauce to go with steamed artichokes, and an awesome raw zucchini and asparagus fettucini pasta—and both the pasta and the sauce were received with accolades! (We'll be posting the fettucini recipe in the future.)

To make this rich and thick sauce, fresh tarragon is a must—there's nothing quite like it for the mild licorice flavor that makes me heady! Prepare in a food processor and make sure there's little flecks of tarragon to increase the beauty of the sauce. If you use a blender, just pulse.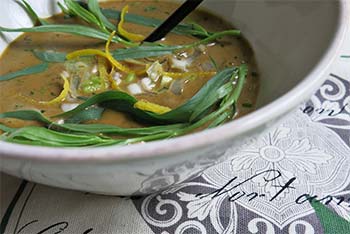 This is such a great sauce to have on hand! We made open faced sandwiches* topped with pasta and sundried tomatoes. It was absolutely delicious! I think this sauce would work for any salad, potatoes, tomatoes, nori rolls, or just about any veggie you can imagine eating. Stores nicely in the fridge for several days.

*The bread was made with soaked chia seeds, sprouted buckwheat, soaked pumpkin seeds, soaked sunflower seeds, sesame seeds, a few dates, and a tiny pinch of Himalayan salt, dehydrated. We'll also be showcasing this recipe soon too. It's really a just the most yummy raw bread.

Ingredients: Makes 1 cup
1/3 cup fresh tarragon leaves, (press down in measuring cup to gage amount)
1/4 cup olive oil
1/4 cup Spectrum walnut oil
4 tablespoons Juniper balsamic vinegar
2 tablespoons lemon juice
2 tablespoons green onions, finely sliced
1 tablespoon Stoneground mustard
1 clove garlic
1/4 teaspoon black pepper, freshly cracked
Lemon zest—just a few slivers using a zester (The surprise of finding a sliver of lemon zest is delightful!)
Tarragon leaves for garnish

Directions
Put all ingredients into a food processor except the lemon zest.
Pulse to desired texture.
Transfer to a serving bowl.
Using a lemon zester, move along the rind with a firm hand to get slivers. Make sure the rind is washed thoroughly, and dried to make peeling easier.
Lay on the tarragon leaves, and sprinkle on lemon zest slivers.

The Little Story: State of Mind
I find when I'm open and grateful, creative energy comes pouring through. And before I've barely blinked, a new idea often lands in my imagination, like this Creamy Tarragon Sauce, or the open-faced sandwiches. In this receptive state of mind, I often experience a deep communion with the food, even before the final act of eating takes place. This is one of the hidden gifts that the fortunate one who prepares the food is able to enjoy. Sometimes people say something to the effect of, "oh you poor thing... you must be in the kitchen all the time", and I just smile and say I love to be in the kitchen, and this is one of the reasons why!

The taste and energy of the food is so much better, truly, when made with love. Whenever possible, keep love in the heart and mind when in the kitchen, for making meals, and for cleaning up too. It makes a difference—and people can tell—they may not know what it is, but they feel a resonance touching body and soul.

Here's a small poem from
Temple Food
to close this week's
Healing Feast
.

Gratitude and Humility

To be humble is to express the gentleness of love as it flows through the world,
and comes to its nesting place in the heart.
A flower tips its petals toward the sun.
The cupped bowl opens itself to receive
the streaming light with gratitude.
The fruits on the tree are cooled by summer's rain,
and thirsty roots drink deeply.
The garden's green leaves unfurl in the morning's awakening
as a brilliance illuminates a world within,
spilling out through a smile.
And hands are doing the work.