The inspiration for this tasty side dish began while I was looking at the fruit bowl and saw one last ripe persimmon. This was accompanied with a desire for a salad with veggie ribbons. I wondered, what can I do with just one ripe persimmon, and what kind of salad could I make? After asking this question a flow if ideas began, and within minutes a new culinary creation had manifested before my eyes.

This is how intuitive food preparation works for me. I begin to follow a trail of suggestions and inner images that come to mind, and see how they resonate within. Taking action is the final step. Using my intuition while preparing food is as important to me as listening to my body's needs to determine what is best to eat on any given day. Intuitive food preparation keeps menus alive and vibrant!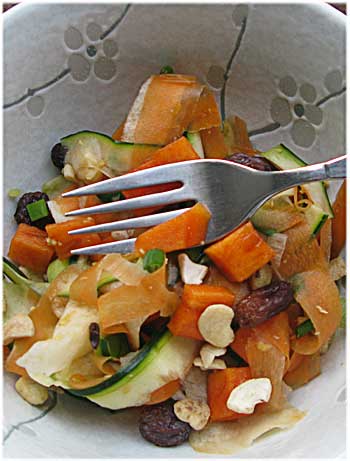 Ingredients: Serves 4 as a side dish
1 cup carrot ribbons
1 cup zucchini ribbons
1/4-1/2 cup parsnip ribbons (parsnip has a wonderful, but strong flavor, so I use less)
1 ripe Fuyu persimmon (should be soft to the touch)
(If persimmons are not available, use 1/4 cup Fuji apple, diced)
3 tablespoons raisins, soaked to soften (optional)
3 tablespoons cashews
2 tablespoons green onion, finely sliced
1 teaspoon ginger root, freshly grated

For a dinner salad, serve on a bed of your favorite greens, or wilted kale, with some avocado slices.

Directions:
Soak raisins for several hours to plump. Drain water. (Can be used for salad dressing.) Set aside.
Scrub carrot, parsnip, and zucchini. Using a peeler, run the blade up and down the veggies lengthwise, trying to do it in one continuous motion. This will create long ribbons. (We use a
Messermeister
brand. The blade doesn't dig into the veggies, and makes beautiful ribbons.)
Put ribbons into bowl.
Peel persimmon, and dice. (Check for occasional seeds.) If using an apple, rinse well, pat dry, cut in half, remove core, and dice. Add persimmon, raisins, ginger, green onions, and cashews to bowl. Mix well.

Almond Butter Dressing:
3-4 tablespoons almond butter
3-4 tablespoons pure water or raisin soak water
1-2 tablespoons balsamic vinegar, or lemon juice
2-3 teaspoons honey, optional
1 small clove garlic, pressed
Tiny pinch of Celtic, or Himalayan salt
Mix ingredients until velvety smooth.

This is a story of an event that I found in my journal from last winter when we lived in Friday Harbor:

A bird hit the window, hard, and now lies on the ground, stunned and in shock. I want so much to go out to the bird, yet my intuition is telling me this would frighten it. I have an urge to try to draw it, and as I do, I begin to feel its muscles, its heart, and a tremulous life force. Prayers are whispered for endurance to fill the bird, so it may either die in peace, or fully recover.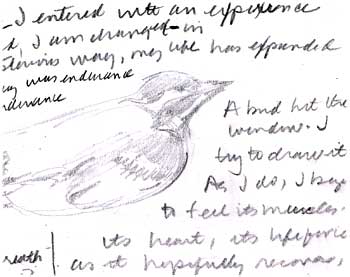 Big flakes of snow are falling from a sudden flurry. A leaf drops from the croton plant in the living room, hits the wooden floor and I jump, it startles me so. It feels like a foreshadowing of something that may come.

I watch the bird breathe. Is it struggling, or recovering? It is starting to look around, puffing up its feathers to keep warm. It takes a faltering step, turns its head. Its beak opens and closes a few times.

The snow is heavy now and the bird is covered in white. I have that same urge to go out into the cold, yet something holds me back. I decide to refill my cup of tea, and when I come back the bird has taken flight. A feeling of joy rushes into my heart.

Because I entered into a greater experience with the bird by trying to draw it, even just for those few moments, I am changed in some mysterious way. I have felt things, like its muscles, heartbeat, and breathing, that I would never have felt had I not made the attempt to draw it. In this moment, my life has expanded to become something greater than it was before.

We wish you all the most wonderful 2012, filled with the art of intuitive food preparation and eating, growing into greater states of vibrant health and well being, and living a life of love!