Looking for something warm (yet not cooked) for a lovely entree or side dish? Try this juicy dish of veggies that are quickly "warm fried" for 2 minutes in herbed garlic oil, with very little loss of nutrients. What this means is that the veggies are not actually cooked, but warmed all the way through. (To make this 100% raw, prepare and eat without heating.)

Serve Veggie Warm Fry with some
Pumpkin Seed Patties
for a very filling meal.

Ingredients (Serves 2)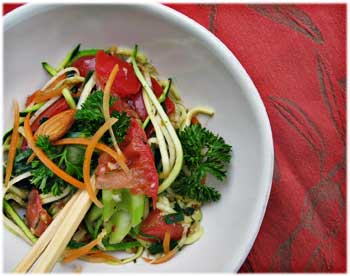 2 cups zucchini ribbons
1 and 1/2 cups tomatoes
1 cup dino kale, chiffinade cut (see directions below)
1/4 cup celery, sliced diagonally
6-8 almonds, soaked (optional)
4 tablespoons green onions
2 tablespoons olive oil
1-2 cloves garlic, pressed
1 tablespoon South River Adzuki Bean Miso
1/2 tablespoon Herbs de Provence
Garnish: parsley

Directions
Rinse all veggies under cool running water. Shake dry.
Remove tough inner spine of kale. Stack leaves and roll tightly. Make sliver-thin slices to create a chiffinade cut. Set aside.
Remove leaves from top of tomatoes. Cut in half, remove any tough parts. Chop into bite sized pieces. Put into a bowl.
Prepare zucchini using a Saladacco, or a
Julienne cutter
or serrated swivel peeler which is what we used for this recipe. Add to bowl.
Cut celery and green onions, and add to bowl along with almonds.
Using a large frying pan warmed over medium heat, add olive oil, garlic, miso, and Herbs de Provence. Stir quickly for 30 seconds.
Add kale, and mix with oil. Stir continually until just barely wilted, about 60 seconds.
Add remaining veggies and almonds to pan, turning veggies over continually until warmed through, about 1-2 minutes.
Remove immediately from heat, and dish up into individual bowls or plates, and add parsley garnish.
Serve and enjoy the wonderful feeling that warmed food can bring.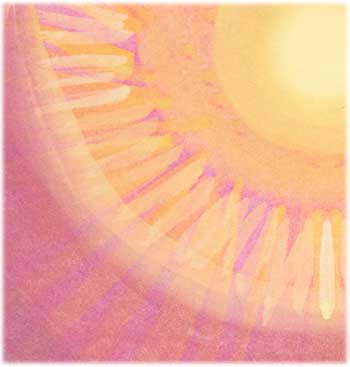 The light from the sun is increasing, and we can feel the pulse of new life beginning to surge through pathways still hidden. For many of us there's an impetus to begin to change habits and patterns that are holding us back, that once removed can lead to transformation.

One major highlight in the last couple of weeks that has been instrumental for our personal transformation is a YouTube video made by our friend, Patti Dobrowolski, who gave a presentation titled "
Draw Your Future
" at the
TEDxRainier Conference
. It's about how we can change our lives by drawing simple pictures of the way we see ourselves now, and then drawing ourselves changed, transformed, with three key steps on how to make this happen.

I tried her basic exercise focusing on two areas of my life that have felt stagnant, and experienced immediate shifts that began to flow effortlessly and immediately, and continued for weeks. It really took my breath away at how easy it can be to effect change. Here's a link to her book,
Drawing Solutions: How Visual Goal Setting Will Change Your Life
.

Then our friend Linda Miller sent us this inspirational link called
Occupy Your Higher Self
, which is filled with beauty, wisdom, and love. It begins with a message to "Occupy your (higher) self. 100%." That's really a powerful statement! It goes on to read, "Occupy your heart. Occupy the place where everything is connected...", and so on. It's compassionately written, and is teamed with one of our favorite Enya songs playing in the background.

In living a life filled with love, we sometimes wonder how we can grow spiritually to make the kinds of inner and outer changes that we've been dreaming of creating, and to really solve and manifest the "what have I come here to do?" question. Both of these links carry messages and practices that can make these dreams come true. The principles can be applied to diet, healing, vocation, lifestyle, and more.

I'm often reminded that once we change ourselves from the inside out, starting with our core essence, it will ripple out through our minds, emotions, and bodies. Soon we find changes in the world around us too. Whether it's a mystery or a miracle that this happens, transformation and the opportunity to reinvent ourselves is a process that continues to amaze me time and time again.