This mouth-watering recipe can be made into either cakes or cookies. With sliced banana and a berry sauce drizzled on top, you've got an awesome dessert. We get a frozen berry mix, so all we have to do is thaw the berries out, and blend them into a sauce. Make sure to get a mix that has raspberries and strawberries because these flavors are utterly delicious with the nutcake and bananas.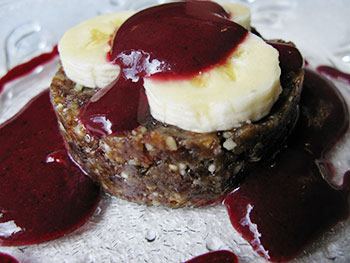 To make into a cookie, roll dough into bite-sized balls, flatten with a fork, and place a slice of banana on top.

Ingredients: Makes 2 nutcakes (2 1/2 inches) or 12 cookies
To make 4 nutcakes, use a smaller sized cookie cutter
1/2 cup walnuts
1/2 cup raisins
1/2 cup frozen or fresh mixed berries: strawberries, raspberries, blackberries, etc.
1/4 banana
2 Medjool dates
1 teaspoon honey

Directions
Defrost berries if needed.
Place walnuts, raisins, and dates into food processor.
Run processor until ingredients start to clump, about 30 seconds.
Put a 2 &1/2 inch cookie cutter onto a serving plate.
Press 1/2 of dough in, and lift cutter. Repeat process using another plate.
Slice bananas and gently press in.
Put berries and honey into Vitamix or blender, and blend until as smooth as possible. Note: If you have a Vitamix, run the machine extra long, and all the seeds will be ground up. If you have a blender, then blend berries as much as possible and remove the seeds by pouring through a strainer. Use a spoon to push sauce through if necessary.
Spoon sauce on top. Or transfer to a squeeze bottle, and drizzle on, making pretty patterns.
Serve within 30 minutes.
Making changes a little bit at a time really adds up. In this easy way we can fine tune our diets and lifestyles. On the flip side, something as seemingly small as one ounce of any food that isn't in our best interest, if multiplied by 365 days, tallies up to a startling 22 pounds over the course of one year!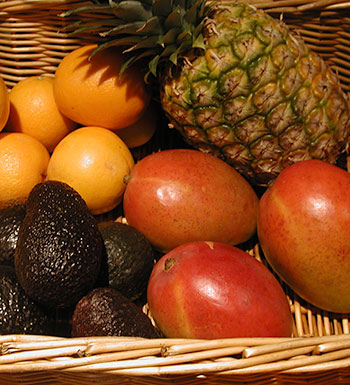 The same principle can be applied to increasing the amount of wholesome, raw or living food into the diet. Small changes can feel empowering: eating sliced carrots or apples instead of chips or nuts; squeezing fresh lemon or orange juice on a salad in place of an oily dressing; drinking a glass of green juice or pure water instead of bottled juice; replacing sugar/honey with fruits, and getting fats from avocados; or having a large salad in place of a cooked carb dinner. These simple choices flood the body with vital nutrients, and support the practice of making every bite count.

The "all or nothing" approach doesn't serve me particularly well. Here's an example of how a little bit of leverage can make a positive, incremental change that helps to move me into the areas that I've been dreaming about. If I'm trying to learn a new exercise like a yoga pose, just doing it one time, even poorly, takes me into the realm of "I can do this!" Then I have a great feeling that I'm improving and this alone is worthwhile because the "I can't" has been replaced with an exciting feeling of "I can". Even though one repetition of a new exercise is a very small increment of change, all the difference has been made because the new skill has become a part of my life, and I have a new frame of reference which leads to doing more with confidence.

So in regard to making good food choices, the incremental "I can" approach may work for you. See where it leads. Rex and I usually find that when we apply this principle to any area of our lives, our thinking changes and doors open to new vistas of possibilities which are just one step away!