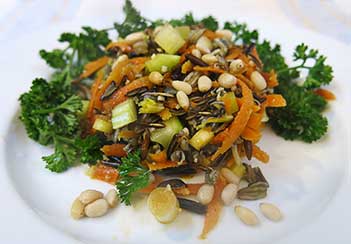 If you've been wanting to dig in to a delicious plateful of wild rice and veggies, here's a recipe for you! In the past, I've tried to soak wild rice, but ended up with rice that was too hard to chew. To our delight, we learned how to make wild rice so that it "blooms". It's not cooked, but is heated at 105 degrees in the dehydrator for 24 hours. (If you don't have a dehydrator, you can make it in a thermos, and directions follow below.) The result is wild rice that's opened up all the way so it's soft enough to chew, and it's got that hearty, earthy, wonderful taste.

This recipe is an adaption of my mother's wild rice with mushrooms and chestnuts recipe that she would make for Christmas and New Year's celebrations. It also appears in my latest book,
Celebrate! The Feast Is On
, which we are sharing with you this week!

Ingredients: Serves 2-4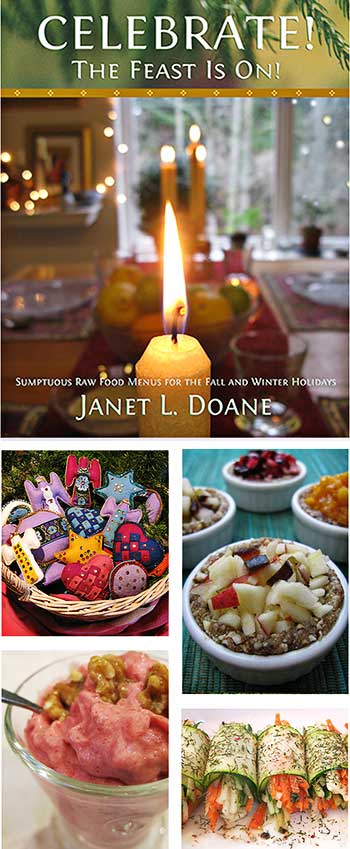 1/2 cup dry wild rice, pre-soaked for 24 hours in 2 and 1/2 cups pure water. Swells up to about 3 cups.
1 cup carrots, scrubbed and grated
1/2 cup celery, diced
4 tablespoons green onions, finely sliced
4 tablespoons cashews, or filberts (soaked first for several hours)
3 tablespoons Spectrum walnut oil
2 teaspoons Juniper Balsamic Vinegar
1 tablespoon raisins, finely minced
1/4 teaspoon Himalayan salt
1/4 teaspoon Chinese 5 Spice mix (use a measuring spoon—it's very strong, so don't overdo it) 1/8 teaspoon freshly cracked black pepper
Parsley for garnish, and to eat too!
Pine nuts for garnish, only if fresh!

Directions
Put wild rice in a one quart mason jar. Cover with warmed, pure water. Add a tiny pinch of Himalayan salt and mix, and cover with a lid.
Place in a dehydrator with temperature set to 105 degrees for 24 hours where it will "bloom".
Thermos Method: Put dry rice in thermos and fill with designated amount of preheated water. Let sit overnight. In the morning drain off water, add more warm water to just cover rice, and let sit for another 12 hours.
Drain well. Transfer to a mixing bowl.
Add veggies, nuts, vinegar, salt, seasonings, and mix.
Place in a firm mound on a plate, and add garnishes.

It's hard to believe that six years have passed since Rex and I began The Healing Feast! And as part of our celebration, we have a gift for all of you... my latest book, &quot
Celebrate! The Feast Is On!
" It's in an elegant turning pages format that doesn't use Flash to view, so everyone should be able to access it without any problems.

The book is filled with beautiful photos, stories about the holidays, poems, and of course, holiday menus for Thanksgiving, the Winter Solstice, Christmas, and the New Year! There's also a section on drinks, snacks, and a few healthy cooked food options.

Until January 1, you can preview the whole
Celebrate!
eBook as many times as you like by
clicking here
. Type in the password
celebratelife
(one word). After that time the printed book and the E-book will both be available on the Healing Feast website in the Little Store.

We wish you the very best for the holiday season, one that is filled with health-giving, vibrant foods, as well as beauty, love, and peace in such abundant quantities that it makes your heart sing!

Write to us, share your stories - we'd love to hear from you!

With love and light!